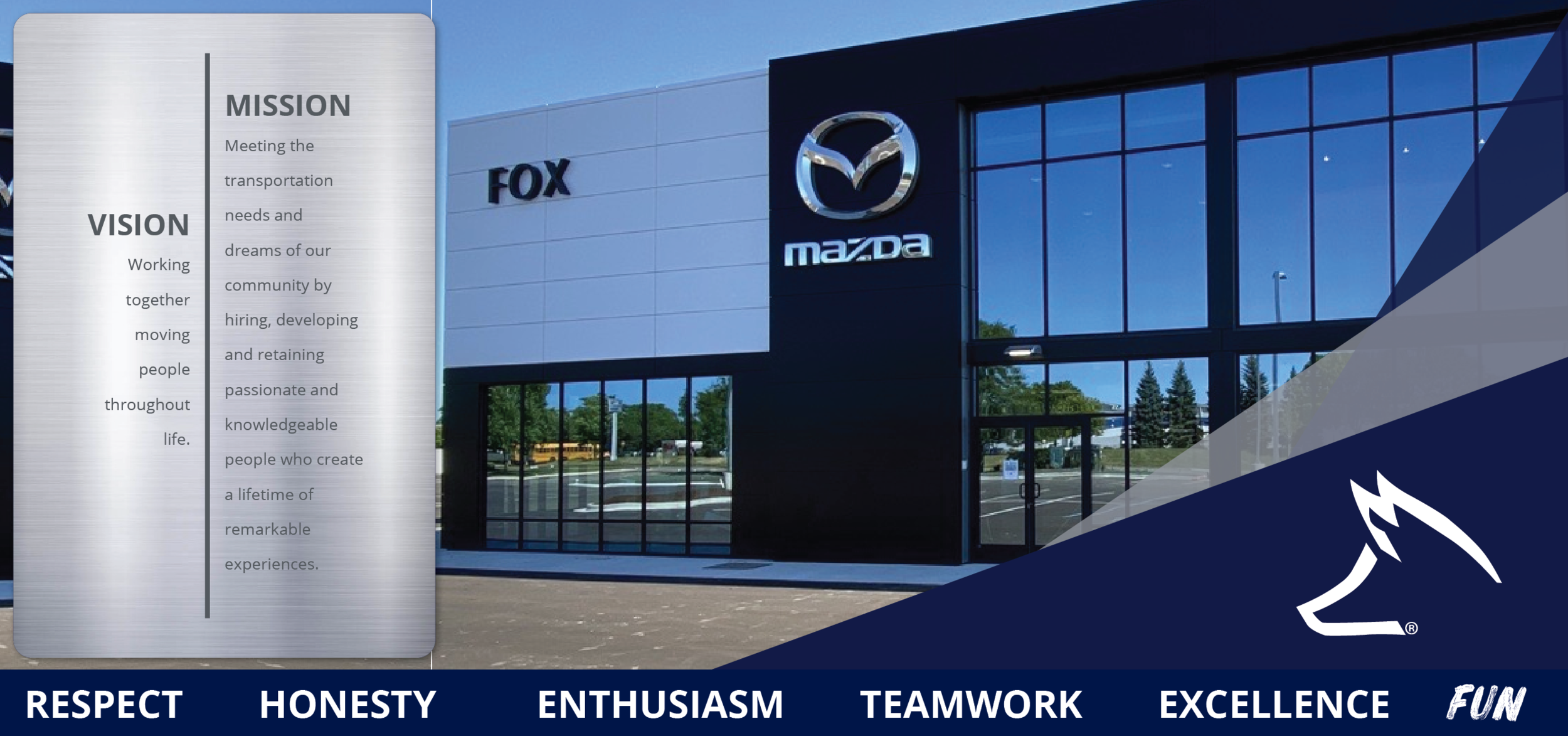 Buying a new or used car should be fun. Seriously.

Which is why Fox Motors makes the experience a remarkable one.
When we first opened our doors in 2000, we didn't just join the car dealership industry. We reinvented it. And we did so in an environment where customers and their needs come first. Where we prove daily that customer service is alive and well. And where our employees are proud to say they work.
We created a dealer network that ensures you'll find the ideal vehicle for your needs. And we make sure you're happy with your first experience with us, because we don't want it to be your last experience with us.
At Fox Motors, we've found going the extra mile helps our customers go the extra thousands. So we do everything we can to build long-term relationships. We give back to the communities we're a part of, and we treat others the way we'd like to be treated - because the golden rule in life can also rule in business.
Our goal is to have the best facilities, the best people, the best selection and the best service - all to ensure that our customers have the best experience. With 47 brands represented by over 1,500 employees in 50 locations, there's just one thing we want for you: only the best.



Vision
Working together moving people throughout life.
Mission
Meeting the transportation needs and dreams of our community by hiring, developing and retaining passionate and knowledgeable people who create a lifetime of remarkable experiences.
Values
Respect - We show consideration, appreciation and respect for the individual when we are interacting with our customers, fellow employees and the people in our community.
Honesty - The reputation we have developed by showing our customers, fellow team members and the people in our community that we are genuine, real, credible and free of deception. We value employee commitment and dedication to the organization's commitment.
Excellence - We strive to provide more than what is expected by our customers, staff and the community. We take pride in doing the job right. Our appearance, speech and actions demonstrate our commitment to excellence.
Teamwork - Teamwork can have many meanings. To work together with fellow staff as a department, a dealership and a dealer group by demonstrating cooperation and the willingness to achieve a common goal which is to ensure our customers have a remarkable experience.
Enthusiasm
- We have the energy and a passion to come to work each day and provide our customers with the best service and strive to make their experience with us a remarkable one. What could be better than coming to work each day wanting to be there and making a
difference in other people's lives? Customers, co-workers, all those around you - enthusiasm is contagious. Bring it with you to work!
FUN
- We want you to find enjoyment and pleasure in the place you work and in the job you do.
Why is Fox Mazda the Go-To Spot for Grand Rapids, Kentwood, Caledonia, Grandville, and Holland, MI Drivers Seeking a New or Used Mazda Vehicle?
It could be our varied and accommodating selection of new Mazda models, including the much-loved Mazda CX-5, Mazda3, Mazda6, Mazda CX-3 and Mazda CX-9. Perhaps it's our equally vast range of high-quality, Fox Mazda-approved used cars.
It may also very well be the Mazda financing offers available to customers who shop with Fox Mazda. With these auto loan and car lease options, shoppers feel at ease, worry-free, and extra satisfied with their purchase.
Fox Mazda isn't only a place for those in the market for a new Mazda car. We're also the go-to spot for those already behind the wheel. Customers find our car service and maintenance center, also located in Grand Rapids, Michigan, both convenient and competent.
It doesn't stop there-- Fox Mazda also hosts an array of services to personalize or enhance your Mazda driving experience. Just ask our onsite auto parts and accessories department what we mean.
Still not clear about why so many trust Fox Mazda for all of their Mazda needs? Visit our dealership at 3560 28th Street Grand Rapids, Michigan and find out for yourself!